Hydrogen-Carbon Ventures
Hydrogen-Carbon Ventures factories (HCV) use the revolutionary power of the McAlister HydroCarbon Splitter™ to produce clean hydrogen and advanced carbon materials in a cost-effective and low-emissions process from organic waste feedstocks.
The HydroCarbon Splitter™ factory splits biomass, biowaste, and fossil feedstocks into hydrogen and carbon allotropes (graphene, carbon fiber, and nanotubes).
The VelPro™ factory uses the carbon materials to manufacture carbon-reinforced and carbon-composite durable goods and equipment.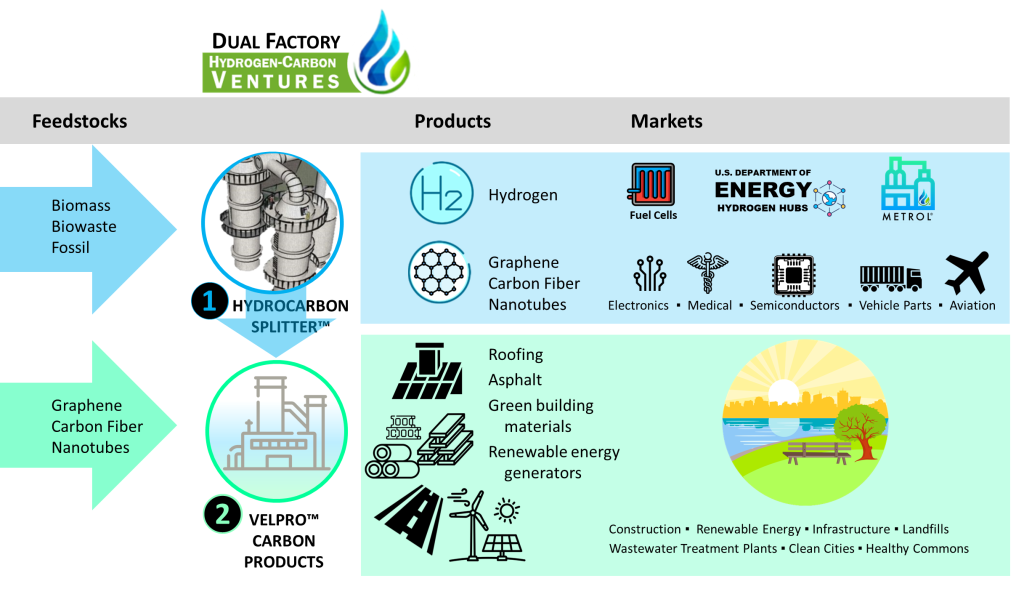 The McAlister HydroCarbon Splitter™ system (HCS) co-produces hydrogen and durable carbon commodities.
Hydrogen has growing market demand for applications such as fuel cells, hydrogen vehicles, rail engines, electricity generation, industrial applications, and the Dept. of Energy Regional Hydrogen Hubs.
Carbon will be supplied for reinforcement of asphalt, concrete, building products, and equipment to sustainably harness solar, wind, moving water and geothermal energy.
We plan subsequently to expand our HCS output of carbon fiber, graphene, and nanotubes for electronics, sensors, and semiconductor applications.
The VelPro™ Carbon Products business unit will use carbon materials produced onsite to manufacture selected product lines.
In addition, each HCV factory will develop joint ventures with manufacturing partners to position carbon products in numerous economic sectors.
Subsequent planned product lines include
green construction materials for architecture and infrastructure;
3D printing with carbon composites;
geomembranes, piping, and fixtures;
auto and plane parts;
renewable energy machine parts or equipment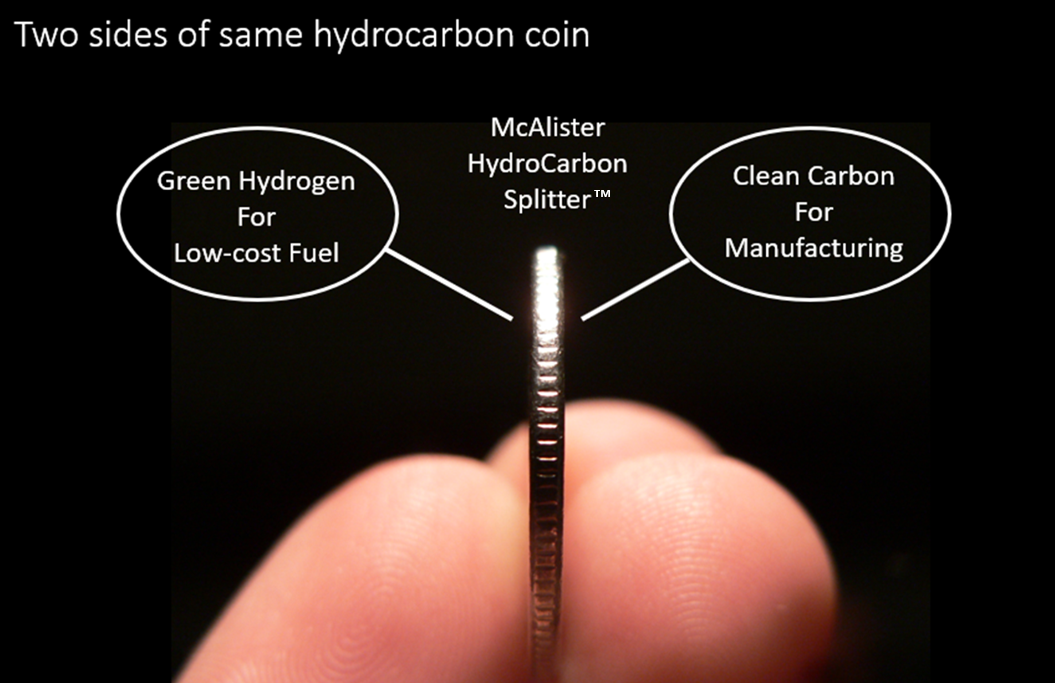 Fuse™ Projects
An HCV factory also serves as a host for various FuSE™ community projects – especially in municipal waste processing, landfill processing, water reclamation, and new algae-biomass farming. McAlister's technology can immediately reduce the carbon-emissions footprint at urban and rural waste processing sites, and enable waste methane from the petroleum industry to be harvested.
McAlister refers to renewable energy equipment—such as wind turbines, radiant solar panels, hydro power turbines—as Green Machines because they harvest renewable clean energy.
Green Machines made from carbon harvested from the air, from biomass and biowaste, and from fossil sources, use that carbon to generate renewable energy every day for decades.
What a different choice than burning the carbon or letting it rot—both of which put it back into the atmosphere to increase the dangers of global warming!
The McAlister HydroCarbon Splitter™ enables us to stop burning or rotting carbon into the atmosphere or burying it under land or sea.
The HydroCarbon Splitter™ produces three vital impacts on global energy consumption.
Stop Burning Carbon.
Provides a Path to True Net-Zero for the Oil Industry.

Repurpose Organic Waste.
Converts Biowaste to Hydrogen Fuel and Advanced Carbon Materials.

Mitigate Climate Change.
Uses Globally Scalable Algae-Biomass to Harvest Atmospheric CO2.

The Expansive Impact of the McAlister HydroCarbon Splitter™
Strategically targets the most harmful sources of greenhouse gas emissions
This is the techno-economic plan needed to combat the rapid exponential damages of climate change